World famous bassist/Stick player, Tony Levin's fan site

UPDATED:ROAD Diary in Japanese. (Dec. 17 ,2001-JST)
Kavin Parent tour diary in Japanese 3 (Nov. 2001)
Kavin Parent tour diary in Japanese 2 (Nov. 2001)
Kavin Parent tour diary in Japanese 1 (Nov. 2001)
CGT & Pat Mastelotto & T.L. Tour diary in Japanese (Sep. 3, 2001)
World Peace Festival at ... (Aug. 21, 2001)
New TL Solo Album's page in Japanese (Aug. 15, 2001)
Lilly!! in Japanese (Jun. 1, 2001)
Waters of Eden Tour in Japan 3 (Apr. 28, 2001)
Waters of Eden Tour in Japan 2 (Apr. 28, 2001)
Waters of Eden Tour in Japan 1 (Apr. 28, 2001)
Stick Seminor Page in Japanese (Apr. 2, 2001-JST)
Kevin Parent Session page in Japanese.(Mar. 23 ,2001-JST)
Paul Richards (CGT) Diary in Japanese (Feb. 8 ,2001-JST)
CGT Tour Diary Part 2 in Japanese(Feb. 7 ,2001-JST)
CGT Tour Diary in Japanese(Feb. 2 ,2001-JST)
NAMM Diary in Japanese(Jan. 24 ,2001-JST)

Archived Internet Broadcast Concerts!
California Guitar Trio, Tony Levin, and Bill Janssen (audio/video)
April 22, 2000 - from The Historic Boulder Theater, Boulder Colorado
Click to listen and see the concert!

Live in England!
The edited live (with video) show Later with Jools (35 min.)
Several performances including Tony with Peter Gabriel
Originally aired Sun 29 May 2000 - 6:15pm Pacific Time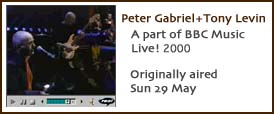 [ Message to Tony | Discography | Tony's page in Japanese| Link ]

---

Tony Levin Club of Japan since 28 May 1996
Any Question is always welcome to Tony Levin Club of JAPAN.
All rights reserved by Tony Levin and Tony Levin Club of JAPAN.
Paul Richards's diary in Japanese is published under permission of Mr. Paul Richards (California Guitar Trio).
The diaries rights has been reserved by Paul Richards and DGM. Thanks a lot, Paul.
If you'd like to link to here, please contact us.